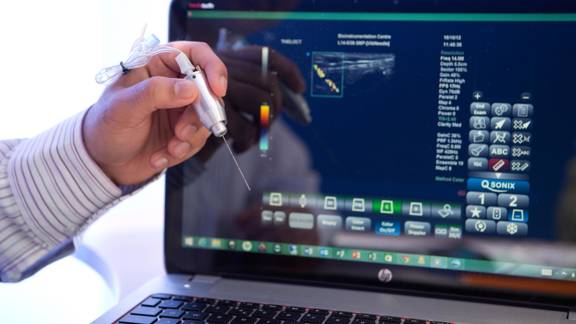 Digital health and care companies
With medical expertise, tech capabilities and a renowned innovative spirit, Scottish digital health and care companies are the natural choice to help you develop your digital health solution.
Did you know?
Scotland's history of healthcare innovation, as well as its expertise and research and development excellence, have earned it the status of leading global partner in integrated healthcare solutions.
Clean energy sector

Our community of digital health companies are experts in turning health data into clinical insights.

A world-renowned healthcare system

Scotland's solutions are tested in its own National Health Service (NHS), which is a key contributor to our success in the sector.

£3 million project portfolio

The Scottish digital health and care institute supports 85 live projects, 150 partners and 5000 patients and healthcare professionals.
Turn data into insights, insights into innovation

The global healthcare industry is facing new and complex challenges, from ageing populations to digitalisation. Overcoming them requires adaptability and innovation.

Scottish companies can help you turn your health data into clinical insights, use these insights to drive innovation, and develop your technology to provide the very best services in healthcare.

With these end-to-end capabilities, as well as our expertise in core sciences and R&D excellence in genomics, data sciences and technology, Scotland is the natural partner for your digital health project.
Benefits of buying digital health solutions from Scotland
A diverse community of companies
In Scotland, you'll find more than 200 medical technology companies, with 60 companies focusing on imaging and diagnostics alone. We have approximately 230 companies involved in precision medicine related activity. Scotland also has a rapidly growing and innovative digital technology company base, with over 9000 businesses operating in this space. Their capabilities include IT consultancy, software services, cybersecurity, data, AI, fintech, networks and connectivity.
A focus on data
Scottish digital health companies have access to extensive data sets across clinical pathways such as diabetes, cardiovascular disease and genomics. They can develop data-driven, patient-focused digital solutions that can benefit healthcare providers and patients around the world.
They can help:
Improve patient health
Improve patient experience
Reduce costs
Increase impact and ROI
Streamline services
The perfect place to develop and test
Scotland's publicly funded healthcare system, the National Health Service (NHS), is a key contributor to the success of the country's digital health and care sector. Its vast network employs approximately 140,000 staff and provides access to patients and medical professionals, enabling an extensive and proven test and evaluation environment. The results of this learning can then be applied worldwide.
Successful Scottish digital health and care companies 
Spiritus
Spiritus is a pioneering digital service for healthcare, clinical labs and life sciences.
They provide industry leaders with assurance that safety, security and compliance measures have been taken across the operating life of their assets and facilities. Spiritus announced plans to invest £3.4 million in a new programming and development centre in Scotland focused on medical safety.
Learn more about Spiritus on the company website opens in a new window  
Care Sourcer
Care Sourcer is an online platform that connects people with local care providers for the elderly. After requesting care on the website, quotes are provided from nearby services within 48 hours.
The company recently raised the funds from two investors, Legal & General and ADV, closing an £8.5 million funding round – the largest ever Series A funding round to be received by a digital tech company in Scotland.
Discover more about Care Sourcer on the company website opens in a new window  
MindMate
MindMate is a mobile-first patient research platform providing multi-dimensional patient profiles. These are based on medical and behavioural data through gamification and machine learning, to quickly place high-quality (pre-screened) users in open clinical trials.
Targeted at those aged 60 and over, it's the number one health app in 17 countries with around 1 million users. The company works with several biotech and pharmaceutical companies worldwide (UK, Australia).
We can help
Whether you're looking for the right suppliers or have a digital health project in mind, we'll help you make the right connections to support your needs.