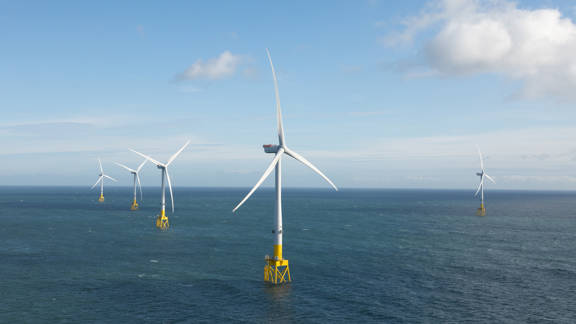 Abu Dhabi investment in Hywind Scotland pays dividends in green energy
Last updated: February 2021
The world's first floating offshore wind farm is now providing clean energy to 20,000 Scottish homes, thanks to a £52.5 million Masdar partner investment in Scottish renewable power.
Scotland's first floating offshore wind farm is now operational
Twenty-five kilometres offshore from Peterhead in Aberdeenshire, Hywind Scotland will now power around 20,000 Scottish households. The 30MW wind farm, operated by Norway's Equinor, in partnership with Masdar, is the first of its kind in the world.
In 2017, Masdar, Abu Dhabi's renewable energy company, invested £52.5 million in Hywind Scotland. Masdar's UK electricity generating capacity is now 1.06GW. Equinor remains the major shareholder and operator of the project.
Irene Rummelhoff, executive vice president of the New Energy Solutions business area at Equinor said: "Hywind can be used for water depths up to 800 meters, thus opening up areas that so far have been inaccessible for offshore wind. The learnings from Hywind Scotland will pave the way for new global market opportunities for floating offshore wind energy.
"Through their government's support to develop the Hywind Scotland project, the UK and Scotland are now at the forefront of the development of this exciting new technology. Equinor looks forward to exploring the next steps for floating offshore wind."
Hywind Scotland consists of five 6MW floating wind turbines anchored to the seabed. The average wind speed in this area of the North Sea is around 10 metres per second.
Mohamed Al Ramahi, CEO of Masdar said: "Masdar has a long-standing commitment to renewable energy in the United Kingdom, and we are immensely proud to deliver our first project in Scotland alongside our partners.
"Hywind Scotland is showing that floating wind technology can be commercially viable wherever sea depths are too great for conventional fixed offshore wind power. This opens up a number of new geographies, and we are already looking at future opportunities with our partners, building on our existing international portfolio in onshore and offshore wind energy, and solar power."
Why global companies like Masdar and Equinor chose Scotland for their floating offshore investments
We've got the natural resources needed to turn offshore wind into a competitive energy source. 
And our supply chain companies benefit from the skills and experience built up over decades supporting our oil and gas industry in the harsh environment of the North Sea. 
We're also committed to supporting the renewable energy industry in Scotland. That means we're here to help companies like yours invest in Scotland. 
Joining our renewable energy revolution means benefiting from financial support, competitive tax networks, and a highly developed infrastructure, including a mature network of energy ports.
You might also be interested in
Renewables and low carbon

Explore Scotland's renewables and low carbon opportunities from hydrogen energy, carbon capture, energy storage to decarbonisation of heat and transport.

Financial and tax incentives

We help companies attract investment, research and development funding and access tax incentives.

Our people and skills

Access an exceptionally well educated, skilled and talented workforce to meet your needs.
We're here to help
Explore Scotland's renewables opportunities and supply chain networks with our help.