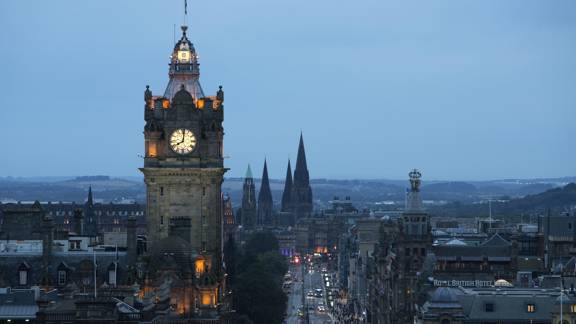 About us and how we can help
As Scotland's trade and inward investment agency, we aim to help more businesses from around the world do business in or with Scotland. If you're an overseas business looking to set up in Scotland or source Scottish products, services or innovation, we can help.
What is Scottish Development International?
Scottish Development International promotes Scotland as a place for investment and trade. Securing more international trade and investment is vitally important in helping to create a more dynamic and globally competitive economy in Scotland.
We do this by providing information, partnering with businesses and investors that want to set up or invest here, and helping businesses find the connections they need.
Support to set up your business in Scotland
We've already helped thousands of companies to realise their ambitions in Scotland, so you can be assured of our support before, during and after you locate in Scotland.
We'll connect you to the right people, in the right place and at the right time, to ensure that you get your Scottish operations up and running as quickly and easily as possible.
Ways we can help you
Property searches and advice

Find the right facilities and get help with feasibility studies and procurement.

Academic connections

Connect your company to Scottish universities and colleges to access cutting-edge innovation and exceptional talent.

Supply chain development

Identify the partners and suppliers that can help your business thrive.

Links to intermediaries

Connect to the business professionals who can help you set up in Scotland.

Talent, recruitment and skills advice

Research, identify, and recruit the people with the skills and experience you need.

Flexible workforce development

Access flexible training support and courses available to support staff development needs.

Link to business networks

Connect to local and global business networks.

Business support and advice

Access dedicated advisers who understand your business and can help develop your strategy and signpost you to the right support.

Financial support

Get advice on financial support that may be available to locate or expand your business in Scotland.
Find Scottish suppliers
We can also help businesses around the world access the huge range of high-quality products and services available in Scotland.
Whether you're looking to import our top-quality products – from whisky and salmon to cutting-edge tech – access our professional services, or use our specialised expertise, we can help you find the suppliers you need.
More opportunities for you and your business
Other ways we can help
Our partners and networks

We can connect you to other government agencies, academic bodies, suppliers, industry organisations, innovation centres and our network of GlobalScots.

Expand your business in Scotland

Once you're set up in Scotland, our support and the support from our partners doesn't end. Find out more about the ongoing help and opportunities available to help you expand.

Our global offices

Want to explore the benefits of investing in or trading with Scotland? Find all the support and guidance you need. Contact our local staff in one of our international offices near you. 
Got a question?
Interested in setting up in Scotland or trading with Scotland? Speak to one of our advisers to find out how we can help you.